The Replacements fue una influyente banda de rock alternativo y punk originaria de Minneapolis, Estados Unidos, que estuvo activa principalmente durante la década de 1980. Fundada en 1979, nunca alcanzaron el nivel de éxito comercial de algunas de sus contemporáneas, como R.E.M. o U2, pero pronto se convirtió en una formación de culto que ha dejado huella.
Su actitud despreocupada y sus presentaciones en vivo a veces caóticas también los convirtieron en una banda memorable en el escenario cuya influencia se puede sentir en muchas bandas posteriores de rock alternativo y punk. Su disco Tim del año 1985 llega en una reedición de lujo. Una nueva mezcla del álbum, junto con tomas alternativas inéditas, demos y un concierto en vivo de 1986 que nunca antes se había hecho público.
Los primeros dos discos de la Edición «Let It Bleed» de Tim contienen una «mezcla definitiva» creada por Ed Stasium, un productor/ingeniero que trabajó en estrecha colaboración con el productor original del álbum, Tommy Ramone (también conocido como Tom Erdelyi). Los oyentes también pueden disfrutar de una versión remasterizada de la mezcla original de Erdelyi, que revitaliza este clásico atemporal.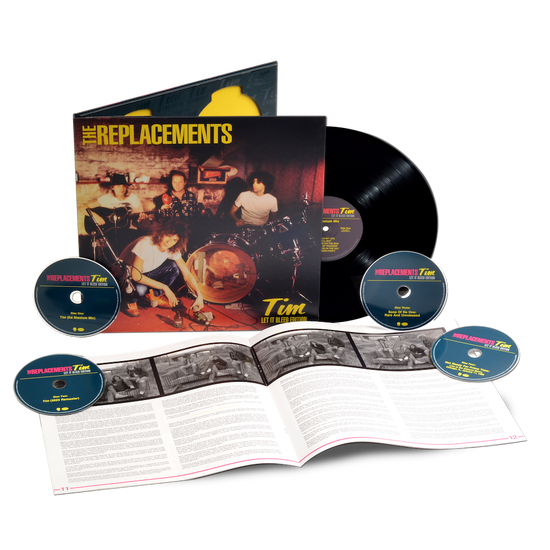 Rhino Records incluye en ella un libro de tapa dura de 12×12 pulgadas, con fotos nunca antes vistas y notas escritas por el biógrafo de The Replacements, Bob Mehr. El nuevo arte de portada está inspirado en una foto de 1985 de la banda practicando en su espacio en Minneapolis, tomada por Moshe Brakha. El tercer disco de esta edición titulado de manera intrigante «Sons of No One: Rare & Unreleased«, ofrece una colección de 15 pistas, con 11 de ellas siendo reveladas por primera vez. Esto incluye «tesoros enterrados» de la sesión de grabación de enero de 1985 bajo la dirección de Alex Chilton de Big Star. El cuarto disco, titulado «Not Ready for Prime Time», revela una grabación en vivo directamente desde la consola de sonido de una presentación de 28 canciones en el Cabaret Metro de Chicago el 11 de enero de 1986.
La extensa Edición «Let It Bleed» de Tim con 65 pistas saldrá a la venta el próximo 22 de septiembre. Las preventas están disponibles actualmente a través del sello discográfico.
Este será el contenido de 'Tim: Let It Bleed Edition' de The Replacements
CD 1: Tim (Ed Stasium Mix)
1. "Hold My Life"
2. "I'll Buy"
3. "Kiss Me on the Bus"
4. "Dose of Thunder"
5. "Waitress in the Sky"
6. "Swingin Party"
7. "Bastards of Young"
8. "Lay It Down Clown"
9. "Left of the Dial"
10. "Little Mascara"
11. "Here Comes a Regular"
CD 2: Tim (2023 Remaster)
1. "Hold My Life"
2. "I'll Buy"
3. "Kiss Me on the Bus"
4. "Dose of Thunder"
5. "Waitress in the Sky"
6. "Swingin Party"
7. "Bastards of Young"
8. "Lay It Down Clown"
9. "Left of the Dial"
10. "Little Mascara"
11. "Here Comes a Regular"
CD 3: Sons of No One: Rare & Unreleased
1. "Can't Hardly Wait" (Acoustic Demo)
2. "Nowhere Is My Home" (Alternate Mix) *
3. "Can't Hardly Wait" (Electric Demo) [Alternate Mix] *
4. "Left of the Dial" (Alternate Version) *
5. "Nowhere Is My Home" (Alternate Version) *
6. "Can't Hardly Wait" (Cello Version) *
7. "Kiss Me on the Bus" (Studio Demo)
8. "Little Mascara" (Studio Demo) *
9. "Bastards of Young" (Alternate Version) *
10. "Hold My Life" (Alternate Version) *
11. "Having Fun" *
12. "Waitress in the Sky" (Alternate Version)
13. "Can't Hardly Wait" (The "Tim" Version) [Alternate Mix] *
14. "Swingin Party" (Alternate Version) *
15. "Here Comes a Regular" (Alternate Version)
CD 4: Not Ready for Prime Time
Live at the Cabaret Metro, Chicago, IL — Jan. 11, 1986
1. "Gary's Got a Boner" *
2. "Love You 'Till Friday" *
3. "Bastards of Young" *
4. "Can't Hardly Wait" *
5. "Answering Machine" *
6. "Little Mascara" *
7. "Color Me Impressed" *
8. "Kiss Me on the Bus" *
9. "Favorite Thing" *
10. "Mr. Whirly" *
11. "Tommy Gets His Tonsils Out" *
12. "I Will Dare" *
13. "Johnny's Gonna Die" *
14. "Dose of Thunder" *
15. "Takin' a Ride" *
16. "Hitchin' a Ride" *
17. "Trouble Boys" *
18. "Unsatisfied" *
19. "Black Diamond" *
20. "Jumpin' Jack Flash" *
21. "Customer" *
22. "Borstal Breakout" *
23. "Take Me Down to the Hospital" *
24. "Kids Don't Follow" *
25. "Nowhere Man" *
26. "The Crusher" *
27. "I'm in Trouble" *
28. "Go" *
* Temas inéditos