Taylor Swift elogió al músico y compositor Jack Antonoff, mientras recogía uno de sus 9 premios MTV VMA 2023, y dijo que "continuará haciendo música hasta 2089" con él.
Escucha JACK ANTONOFF

en Apple Music (ad)
La cantante ganó todo lo ganable, el premio a la Canción del Año por su sencillo "Anti-Hero", su segundo trofeo de la noche tras recibir el premio al Mejor Pop. Ganó álbum del año, artista del año, etcétera…
"Tengo mucha, mucha suerte de poder escribir canciones con uno de mis mejores amigos en el mundo", dijo Swift.
"Su nombre es Jack Antonoff, tiene tanto talento que es incomprensible. Tengo mucha suerte de haber trabajado con él desde el álbum '1989'. Continuaremos trabajando juntos hasta 2089".
Riéndose de sí misma, continuó:
"Las matemáticas no son matemáticas… Estoy muy feliz porque esto valida mi parte favorita de lo que puedo hacer. Empecé a escribir cuando tenía 12 años y siempre empieza con una emoción muy aislada; un tipo muy específico de inseguridad o autodesprecio que siento que es lo único que siento en ese momento".
"Pero luego, cuando salgo de gira y tengo un estadio lleno cantando la letra, me lleva a una sensación muy relajante de que tal vez todos tengamos los mismos problemas. Así que muchas gracias a los fans, os quiero mucho. Esto significa muchísimo para mí".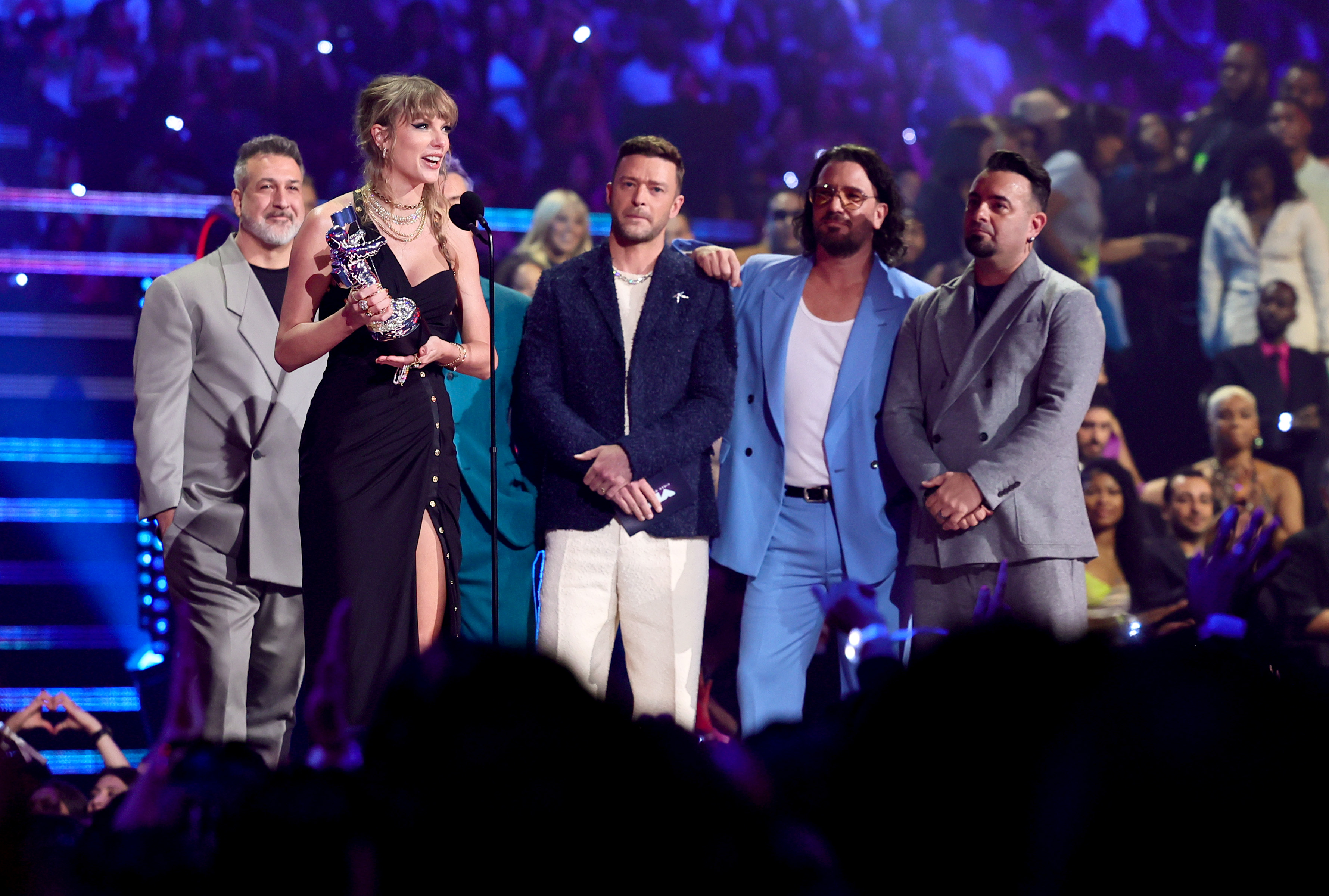 Temprano en la noche, Swift recibió el premio al Mejor Pop de *NSYNC, cuya aparición marcó la primera vez que los cinco miembros de la boyband se reunieron en una década.
"¿Estáis haciendo algo? ¿Qué va a pasar ahora?" dijo la estrella del pop mientras reaccionaba cuando la boyband le entregó el trofeo. "Váis a hacer algo y necesito saber qué es. Vosotros sois la personificación del pop, así que recibir esto de sus manos doradas del pop es… es demasiado".
Lil Wayne inició la entrega de premios interpretando de 'Uproar' y 'Kat Food'. Olivia Rodrigo lo¡e siguió con una interpretación de 'Vampire' y 'Get Him Back!', recreando elementos del vídeo del tema anterior. Cardi B y Megan Thee Stallion también estrenaron en vivo su nueva colaboración 'Bongos'.
También actuaron Demi Lovato, Diddy, Doja Cat, Fall Out Boy, Karol G, Måneskin, Nicki Minaj, Sabrina Carpenter, Stray Kids, Tomorrow X Together y Anitta.
Ganadores:
Video of the year
Taylor Swift – "Anti-Hero" – Republic Records
Artist of the year
Taylor Swift – Republic Records
Song of the year
Taylor Swift – "Anti-Hero" – Republic Records
Best new artist
Ice Spice – 10K Projects / Capitol Records
Best collaboration
Karol G, Shakira – "TQG" – Universal Music Latino
Best pop
Taylor Swift – "Anti-Hero" – Republic Records
Best hip-hop
Nicki Minaj – "Super Freaky Girl" – Republic Records
Best R&B
SZA – "Shirt" – Top Dawg Entertainment / RCA Records
Best alternative
Lana Del Rey ft. Jon Batiste – "Candy Necklace" – Interscope Records
Best rock
Måneskin – "The Loneliest" – Arista Records
Best Latin
Anitta – "Funk Rave" – Republic Records
Best K-pop
Stray Kids – "S-Class" – JYP / Republic
Best Afrobeats
Rema & Selena Gomez – "Calm Down" – Mavin Global Holdings Ltd / Jonzing World Entertainment / SMG Music / Interscope Records
Video for good
Dove Cameron – "Breakfast" – Columbia Records
Push performance of the year
April 2023: TOMORROW X TOGETHER – "Sugar Rush Ride" – BIGHIT MUSIC / Republic Records
Best direction
Taylor Swift – "Anti-Hero" – Republic Records – Directed by Taylor Swift
Best cinematography
Taylor Swift – "Anti-Hero" – Republic Records – Cinematography by Rina Yang
Best visual effects
Taylor Swift – "Anti-Hero" – Republic Records – Visual Effects by Parliament
Best choreography
BLACKPINK – "Pink Venom" – YG Entertainment / Interscope Records – Choreography by Kiel Tutin, Sienna Lalau, Lee Jung (YGX), Taryn Cheng (YGX)
Best art direction
Doja Cat – "Attention" – Kemosabe Records / RCA Records – Art Direction by Spencer Graves
Best editing
Olivia Rodrigo- "Vampire". Geffen Records.
Show of the Summer
Taylor Swift – Republic Records
Group of the Year
BLACKPINK – YG Entertainment / Interscope Records
Song of the Summer
Jung Kook ft. Latto – "Seven" – BIGHIT MUSIC / Geffen Records
Album of the Year
Taylor Swift – Midnights – Republic Records